Check out our new Testimonials webpage (Nov 2016). Thank you SO much for all your great feedback!
Don't forget to LIKE us on Facebook to get updates and postings about all things creative in Northumberland!
2017 SUMMER PROGRAM of
Music, Art & Drama
DATES & THEMES:
July 10-14: Exploring the Coral Reef
July 17-21: Three Magic Wishes!
July 31-August 4: My Road Trip Across Canada...
August 14-18: The Other Side of the Rainbow
August 21-25: The Lost Jungle City
We will be holding 2 Summer Program Registration days on:
Saturday, May 13 from 10:00-noon AND Saturday, June 10
from 10:00-noon
at The Old Art School (the Mill) in Port Hope.
HOW TO I GET TO THE MILL? Molson's Mill (the Old Art School) in Port Hope is located on the Northeast corner of Molson St and Hope St. N. Watch for the Journey Through the Arts sandwich board just before the Molson St. bridge. PLEASE DO NOT GOOGLE MAP the location!
If you are unable to attend a Registration Day in person, you are invited to submit your registration beginning May 13 via email journeythroughthearts@bellnet.ca, phone (905) 885-0908 or mail: JTTA 27 Walton St. Apt 1 Port Hope, Ontario LIA 1M8.
>> Please
CLICK HERE for the 2017 Registration Package
<< which includes everything you need to know and include in your registration.
If you have any further questions or would like a copy of the 2017 brochure mailed to you please don't hesitate to email us!
We are looking forward to another wonderful summer at the mill as we celebrate 16 YEARS OF JOURNEY THROUGH THE ARTS!
Christine, Mike & Eve
To join our Mailing List please email journeythroughthearts@bellnet.ca.
For more information about our Summer Program of Music, Art and Drama please contact us!
---
JOURNEY THROUGH THE ARTS
SPRING ART WORKSHOP SCHEDULE
for Children 6-12
SATURDAY MORNING WORKSHOPS WILL CONTINUE TO THE END OF JUNE! Keep checking back for more workshop updates!
Saturday, April 22: EARTH DAY Recycled Metal Flowers- To celebrate Earth Day we are going to take recycling to a whole new (and beautiful!) level by transforming colourful metal cans, beads and wire into funky metal flowers- a cool way to reduce, reuse and up-cycle to make art!
Saturday, May 6: Dandelion Paintings- Who ever said that dandelions were weeds certainly didn't know how to appreciate the cheery colours and whimsical flowers scattering their backyard. Whether they are little puffy flowers filling the sky with seeds or happy little yellow buds these dandelions will provide fun inspiration for spring landscapes on canvas.
LIKE us on FACEBOOK for more art workshop updates and information.
* All art workshops are held from 10:00-11:00 at The JTTA Studios (27 Walton St. Second Floor) in downtown Port Hope and are $20 per person plus HST (which includes all art supplies) TO REGISTER please email journeythroughthearts@bellnet.ca or call Christine at (905) 885-0908.
---
The JTTA In-the-Schools Programme
WORKSHOPS INCLUDE:
Learning the Basics of Drawing
Relief Printmaking
Drawing Trees Inspired By Emily Carr
Caricatures
Pointillism
Portraits Inspired by Modigliani
Surrealism and Salvador Dali
Architectural Designs Inspired by Hundertwasser
Navajo Sandpainting and Symbolism
Art in the Round: Exploring Tibetan Mandalas
Australian Aboriginal Art
Drawing Our Own daVinci Flying Machines
Drawing Underwater Creatures
Egyptian Hieroglyphics

OwlPaintings on Canvas: Learning How to Mix Colours and Create Textures with Paint
Contour Leaf Drawings with Cross-hatching
Paintings That Make You SCREAM Inspired by
Edvard Munch
Pen and Ink Owls: Learning About Lines and Textures
How to Draw People in Proper Proportion
Canadian Aboriginal Art: Petroglyphs and Storytelling
Understanding Colour
Self-Portraits Inspired by Vincent vanGogh
Collage with Gustav Klimt
Cubism Portraits Inspired by Pablo Picasso
Landscape Painting and the Group of Seven
Scratchboard Inspired by the Tree of Life

We hope to see you at the studio soon!
---
WE ARE...
Journey Through the Arts, run by artist Christine Benson, and musician Mike Woods is a multi-faceted arts organization in Port Hope, Ontario which is dedicated to bringing a variety of exciting programmes to adults and children. Founded as a way to ensure "the arts" (music, art and drama) are an integeral part of children's lives JTTA offers week long summer programmes throughout July and August at a restored mill along the Ganaraska River. The summer programme, which was founded in 2002, teaches children (between the ages of 6 and 13) about the value and importance of using their creativity and imagination while they produce visual art, perform original musical compositions and perform short plays. The results are both inspiring and humbling as the children gain confidence and learn various skills throughout the week.
From its roots as a children's arts organization Journey Through the Arts (JTTA) has blossomed and grown into a place where adults and children alike can experience the limitless possibilities of the arts. JTTA now offers after school, weekend and specialty art workshops for children, private guitar lessons, a group recording facility and adult visual art workshops which are dedicated to exposing adults (with various levels of experience) to the fine arts.
In the summer of 2005 JTTA opened the doors of the The Journey Through the Arts Gallery which focuses on giving exhibition opportunities to local and regional artists and artisans. The JTTA Gallery offers visitors a glimpse into the ideas, practises, techniques and work of 15 artists. The gallery features a variety of media including painting, printmaking, jewelry and pottery. Exhibitions and artists are ever-changing with work that is sure to inspire the artist within all of us.
---
JOURNEY THROUGH THE ARTS OFFERS:
PRIVATE LESSONS for ADULTS & CHILDREN:
Arranged to suit your individual schedule, these lessons can be booked after school or in the evening. Lessons are 30 minutes ($20 per lesson) or 1 hour ($30 per lesson) plus HST. Private lessons include all art supplies. Lessons are based on your individual interests including mosaics, jewellery, painting on canvas, watercolour, printmaking and more!!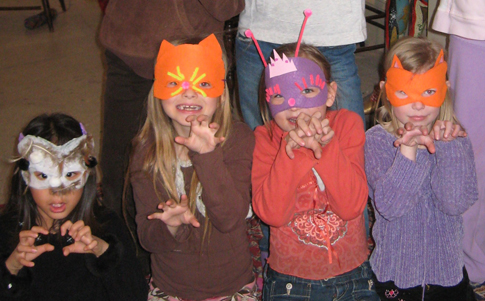 ART BIRTHDAY PARTIES:
JTTA offers a fun and creative way to celebrate your child's birthday! Your private party includes all supplies, snacks and an art project for each of your guests. Parties are one hour in length and are held at our downtown studios. Parties are suitable for children 6-13 and are $15 per child plus HST. Please visit our website or call the studio for project descriptions.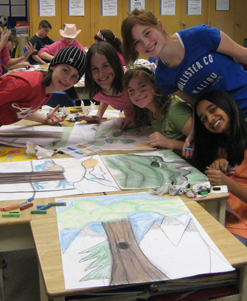 IN-THE-SCHOOLS PROGRAMME:
Invite JTTA to your school! Workshops are available for JK to Grade 8 in various media. All workshops are affordably priced at $6 plus HST per student, including all art supplies. Instruction is 2 periods in length and comes with an accompanying rubric that compliments the visual art curriculum.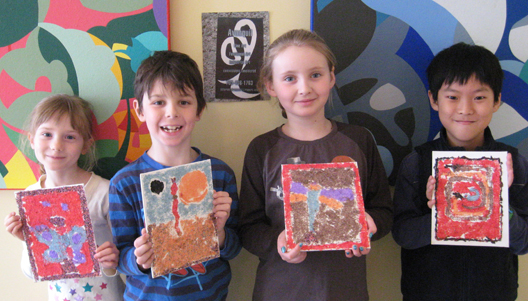 SATURDAY MORNING ART WORKSHOPS FOR CHILDREN 6-12:
Each 1 hour workshop focuses on a particular technique and/or art movement. Art workshops for children are held on Saturday's from 10:00-11:00 and are $20 per workshop plus HST (which includes all art supplies) and consist of a maximum of 10 participants. Children are not required to register for all workshops and are free to pick and choose the workshops that interest them!
THE NORTHUMBERLAND ROCK AND ROLL EXPERIENCE:
Features guitar lessons, guitar supplies and an impressive private permanent collection of Rock and Roll artifacts. Visit www.northumberlandrockandrollexperience.com for more information!
---