2023 SUMMER PROGRAM INFO COMING SOON
~
JANUARY 2023 ART WORKSHOP SCHEDULE


Kids, Teens & Adults!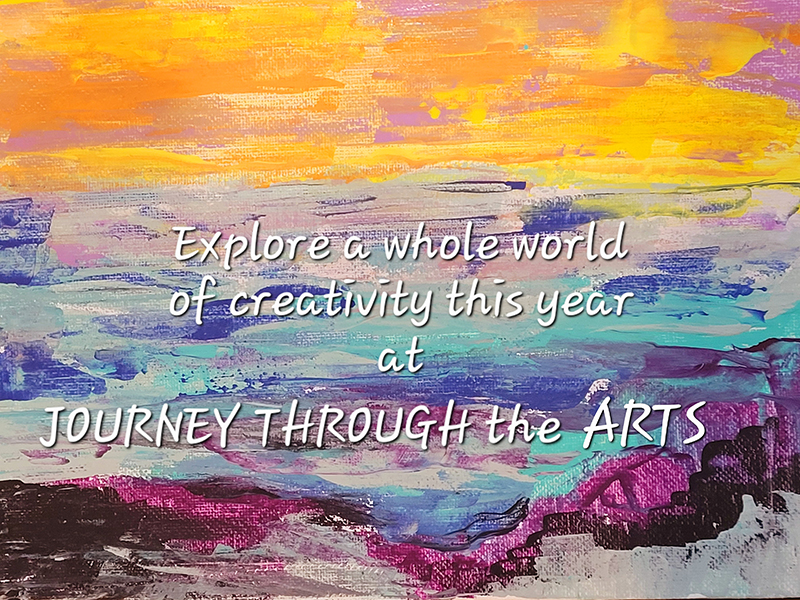 WINNER Best Art School/Instruction
WINNER Best Local Artist: Christine Benson


KIDS WORKSHOPS (Ages 6-11 years)
"A Night at the Museum"
Does your child love playing the game "A Night At the Museum" where they become a statue in a museum and the exhibits and artefacts come alive? These art workshops will have our imaginations travelling through the museum as we stop and create works of art involving famous civilizations, animals from around the world and creatures long since extinct!
Join me at the log cabin studio for a different night at the museum each class! We will be travelling back millions of years, diving underwater, flying through the air and digging underground to create drawings, sculptures, pottery, paintings and more!
Workshops are $20 plus $6 Art Kit +HST per child. Suitable for children ages 6-11 years.
Held at Journey Through the Arts Log Cabin Studio (190 Hope St. N Port Hope)
TO REGISTER: Please email jttacabin@gmail.com
Monday, January 9 from 4:30-5:30 Jurassic Journey: Creating Dinosaur Drawings & Cartoons
Saturday, January 14 from 10:00-11:00 The Frozen Tundra: Polar Bear Acrylic Paintings
Monday, January 16 from 4:30-5:30 Come to the Medieval Castle: Create Your Own Family Coat of Arms
Wednesday, January 18 from 4:30-5:30 A Trip to Egypt: Sculpt Your Own Cat Sphinx Out of Clay
Saturday, January 21 from 10:00-11:00 The Journey of the Emperor Penguin: Watercolour Penguin Paintings
Monday, January 23 from 4:30-5:30 A Trip to Egypt: Sculpt Your Own Cat Sphinx Out of Clay
Wednesday, January 25 from 4:30-5:30 Unearthing Hidden Pictures: Creating Your Own Scratchboard Mosaic
Saturday, January 28 from 10:00-11:00 Jurassic Journey: Creating Dinosaur Drawings & Cartoons
Monday, January 30 from 4:30-5:30 Become A Jungle Explorer: Chalk Pastel Tigers

TEEN WORKSHOPS (Ages 11-14 years)
These workshops are for Teens looking to get creative, strengthen their art practise and get to know other like-minded artistic teens. In this group suggestions from the teens are always welcome as we explore more difficult techniques and media.
Friday, January 13 from 6:00-6:45 Drawing on Glass: Using special pens we will create our own drawings on glass and be inspired by stained glass, mosaics and graffiti art to customize your own framed glass drawing.
Friday, January 27 from 6:00-6:45 Palette Knife Paintings: Palette knives are a super cool way to create texture, movement and interesting colour blending. We will smear, scratch and move the paint around to create bold and colour palette knife paintings on canvas.
Workshops are $20 plus $6 Art Kit +HST per Teen.

ADULT WORKSHOPS

Book Your Own Time With Friends at the Studio!
New Year's Resolutions are easy to break aren't they? But if you made a resolution to do something fun, to learn something new or be creative I've made a cozy & inviting studio space for you at the Journey Through the Arts log cabin. Come and spend a couple of hours with your friends and pick a project you have always wanted to try:
Relief printmaking (linocuts)

Watercolour

Drawing/Sketching

Scratchboard

Acrylic Painting

Chalk Pastel/Charcoal
What are YOU interested in exploring? Landscapes, animals, gardens, abstract? The art supplies are ready! Feel free to contact me to reserve a customized time during the day Monday to Friday between the hours of 10:00am to 2:00pm and create a project for you! Connect with your creative side and with your friends in a fun and relaxing environment. $30 per person for a 1.5 hour private workshop (includes all art supplies) Please email the studio at jttacabin@gmail.com for more information or to book your workshop!
I hope to see you all at the cabin studio!
Christine
---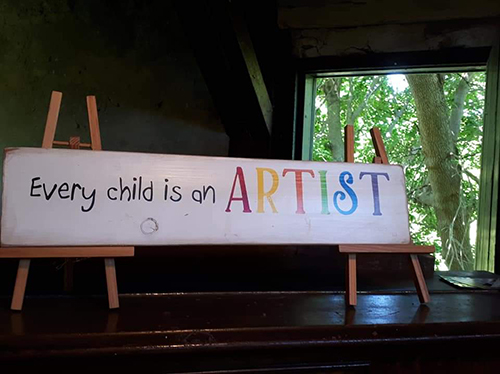 Have you missed all the summer fun of being at Molson's Mill along the Ganaraska River in Port Hope? Our popular kids Summer Program of Music, Art & Drama is back! Proudly celebrating 21 years of arts education in Northumberland! Winner of 3 People's Choice Awards.
Instructed by:
Christine Benson (Ontario College of Art & Design graduate, owner of Journey Through the Arts and local artist),

Mike Woods (guitarist of the Soul Shaker's Union, Marty and the Mojos and Garage Dog and owner of Log Jam Studios), and

Sarah Foord (graduate of York University's Drama Program and local actress).
The Summer Program lets kids experience ALL 3 AREAS OF THE ARTS including:
MUSIC: guitar, African percussion and song-writing where they write their own song.

DRAMA: they write and perform their own play, learn about character development, improv and other drama skills.

VISUAL ART: create a different art project each day including painting, pottery, drawing, printmaking, cartooning and create a gallery of their artwork!
* Our unique week-long Program is suitable for children ages 6 to 12 years old, and runs Monday to Friday from 9:00-3:00.
Each week culminates into a live theatrical and musical performance and art exhibition with your kids being the stars!
2022 SUMMER PROGRAM
DATES & THEMES:
The 2022 Summer Program is completely FULL. To join our Waiting List please email jttacabin@gmail.com
Week 1: July 11-15: > FULL! < Lights, Camera, Action: Welcome to Hollywood!

Week 2: July 18-22: > FULL! < Magic, Mayhem & Mystery Creatures

Week 3: August 15-19: > FULL! < Time Travel

Week 4: August 22-26: > FULL! < Behind the Secret Door
$225 (plus HST) per week. Includes all art supplies, the use of all musical instruments and an Art Kit to take home!
To reserve your spot please email jttacabin@gmail.com or phone (905) 885-0908.
Looking forward to an amazing summer together!

Sincerely,
Christine Benson
Journey Through the Arts
---
The JTTA In-the-Schools Programme
WORKSHOPS INCLUDE:
Learning the Basics of Drawing
Relief Printmaking
Drawing Trees Inspired By Emily Carr
Caricatures
Pointillism
Portraits Inspired by Modigliani
Surrealism and Salvador Dali
Architectural Designs Inspired by Hundertwasser
Navajo Sandpainting and Symbolism
Art in the Round: Exploring Tibetan Mandalas
Australian Aboriginal Art
Drawing Our Own daVinci Flying Machines
Drawing Underwater Creatures
Egyptian Hieroglyphics

OwlPaintings on Canvas: Learning How to Mix Colours and Create Textures with Paint
Contour Leaf Drawings with Cross-hatching
Paintings That Make You SCREAM Inspired by
Edvard Munch
Pen and Ink Owls: Learning About Lines and Textures
How to Draw People in Proper Proportion
Canadian Aboriginal Art: Petroglyphs and Storytelling
Understanding Colour
Self-Portraits Inspired by Vincent vanGogh
Collage with Gustav Klimt
Cubism Portraits Inspired by Pablo Picasso
Landscape Painting and the Group of Seven
Scratchboard Inspired by the Tree of Life

We hope to see you at the studio soon!
---
WE ARE...
Journey Through the Arts, run by artist Christine Benson, and musician Mike Woods is a multi-faceted arts organization in Port Hope, Ontario which is dedicated to bringing a variety of exciting programmes to adults and children. Founded as a way to ensure "the arts" (music, art and drama) are an integeral part of children's lives JTTA offers week long summer programmes throughout July and August at a restored mill along the Ganaraska River. The summer programme, which was founded in 2002, teaches children (between the ages of 6 and 13) about the value and importance of using their creativity and imagination while they produce visual art, perform original musical compositions and perform short plays. The results are both inspiring and humbling as the children gain confidence and learn various skills throughout the week.
From its roots as a children's arts organization Journey Through the Arts (JTTA) has blossomed and grown into a place where adults and children alike can experience the limitless possibilities of the arts. JTTA now offers after school, weekend and specialty art workshops for children, private guitar lessons, a group recording facility and adult visual art workshops which are dedicated to exposing adults (with various levels of experience) to the fine arts.
In the summer of 2005 JTTA opened the doors of the The Journey Through the Arts Gallery which focuses on giving exhibition opportunities to local and regional artists and artisans. The JTTA Gallery offers visitors a glimpse into the ideas, practises, techniques and work of 15 artists. The gallery features a variety of media including painting, printmaking, jewelry and pottery. Exhibitions and artists are ever-changing with work that is sure to inspire the artist within all of us.
---
JOURNEY THROUGH THE ARTS OFFERS:
PRIVATE LESSONS for ADULTS & CHILDREN:
Arranged to suit your individual schedule, these lessons can be booked after school or in the evening. Lessons are 30 minutes ($20 per lesson) or 1 hour ($30 per lesson) plus HST. Private lessons include all art supplies. Lessons are based on your individual interests including mosaics, jewellery, painting on canvas, watercolour, printmaking and more!!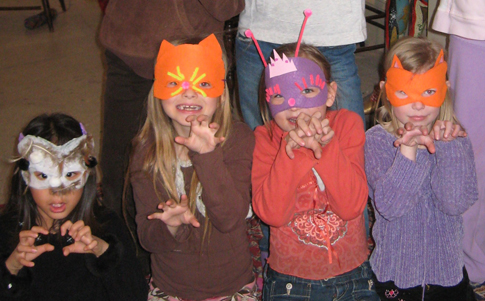 ART BIRTHDAY PARTIES:
JTTA offers a fun and creative way to celebrate your child's birthday! Your private party includes all supplies, snacks and an art project for each of your guests. Parties are one hour in length and are held at our downtown studios. Parties are suitable for children 6-13 and are $15 per child plus HST. Please visit our website or call the studio for project descriptions.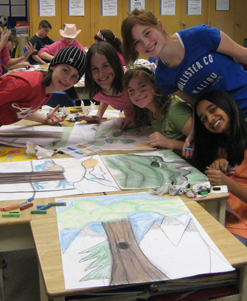 IN-THE-SCHOOLS PROGRAMME:
Invite JTTA to your school! Workshops are available for JK to Grade 8 in various media. All workshops are affordably priced at $6 plus HST per student, including all art supplies. Instruction is 2 periods in length and comes with an accompanying rubric that compliments the visual art curriculum.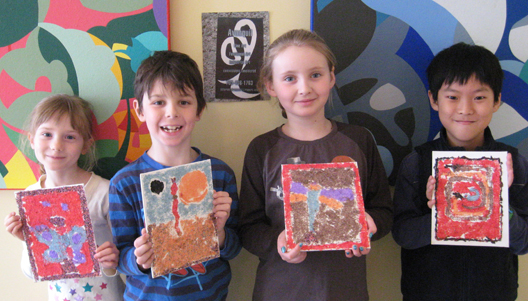 SATURDAY MORNING ART WORKSHOPS FOR CHILDREN 6-12:
Each 1 hour workshop focuses on a particular technique and/or art movement. Art workshops for children are held on Saturday's from 10:00-11:00 and are $20 per workshop plus HST (which includes all art supplies) and consist of a maximum of 10 participants. Children are not required to register for all workshops and are free to pick and choose the workshops that interest them!
---