BACKYARD SUMMER ART PROGRAM 2020
(Hover over or press image to enlarge. Print poster from here.)
Are you looking for something to engage your children's creativity and imagination at home this summer? I am excited to be offering a Backyard Art Program for kids ages 6 to 12 years old.

This is an Art Program which includes 5 fun art projects per program for kids to do at home. Just grab the instructions, the bag of supplies and find a cool place to create in your own backyard.
Each Backyard Art Program:
includes all art supplies for 5 art projects that tie in to the theme of the Program
includes simple step-by-step instructions (with photographs) for each project
is delivered free to your door in Cobourg and Port Hope (with porch pick-up for other locations)
is $45 plus HST per program.
Above are a few examples of the Art Projects that we will be creating throughout the summer.

If this sounds like something you would like to get your child involved in and you would like to receive information about The Backyard Art Program for your child please feel email Christine at journeythroughthearts@bellnet.ca or LIKE Journey Through the Arts on Facebook for updates!
I look forward to creating a summer full of fun!
Keep safe,
Christine
Journey Through the Arts
www.journeythroughthearts.com

---
Journey Through the Arts has been offering a summer programme for children ages six to thirteen since the summer of 2001. Since then over 1,000 participants have experienced the widest range of arts interaction in the community. With weekly themes that culminate into a grand performance, kids will get to experience a production from every possible angle. From writing their own plays and acting, to designing costumes and sets, these children literally do it all to create their own one of a kind theatre production. Kids will also enjoy writing their own music and have the chance to experience different instruments as well as learn how to write and perform their original compositions. Participants will also be exposed to a wide variety of visual art workshops including; printmaking, pottery, jewelry design, painting and more, with their work being on display at the end of each week for all to see! At Journey Through The Arts we are committed to offering an unmatched chance to explore the arts as well as an opportunity to meet new friends and provide your child with an unforgettable experience.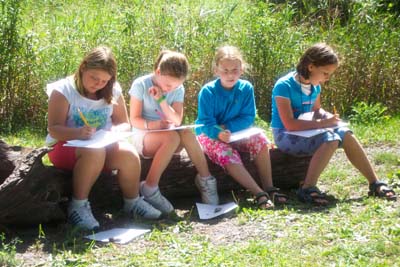 Location
Photo Gallery
---