2018 Summer Program of


Music, Art & Drama for Children
THEMES & WEEKS OF OPERATION/DATES:
July 9-13:

Cast a Magic Spell




July 23-27:

Stamp Your Passport




August 13-17:

Through the Telescope: Exploring the Stars




August 20-24:

The African Savannah Adventure
How Do I Register?
We will be holding our 2018 Summer Program Registration days on:
Saturday, May 12 from 10:00-noon
at The Old Art School (the mill) in Port Hope.
>> Location <<
If you are unable to attend a Registration Day in person, you are invited to submit your registration beginning May 13 via
email: journeythroughthearts@bellnet.ca,
phone: (905) 885-0908 or
mail: JTTA, 190 Hope St. N., Port Hope, Ont., L1A 2P4.
>> Please CLICK HERE for the 2018 Registration Package <<
which includes everything you need to know and include in your registration.
If you have any further questions please don't hesitate to email us!
We are looking forward to another wonderful summer at the mill as we celebrate 17 YEARS OF JOURNEY THROUGH THE ARTS!
Christine, Mike & Eve
Cost:
The cost per child (per week) is $210 PLUS HST ($237.30) which includes the use of all art supplies, guitars, percussion instruments and materials as well as two daily snacks. The program runs Monday to Friday from 9:00am until 3:00pm.
Family Discount: If two or more family members are registered we offer a 10% discount on the second and each additional child wishing to register.
Payment:
If registering by mail please send a cheque, cash or ETransfer for either:
$60 (non-refundable deposit, the remainder to be paid upon arrival)
$237.30 (pay in full)
*Please make all cheques payable to Journey Through the Arts. Once we have received your payment a receipt and confirmation of your registration will be sent to you.
---
Journey Through the Arts has been offering a summer programme for children ages six to thirteen since the summer of 2001. Since then over 1,000 participants have experienced the widest range of arts interaction in the community. With weekly themes that culminate into a grand performance, kids will get to experience a production from every possible angle. From writing their own plays and acting, to designing costumes and sets, these children literally do it all to create their own one of a kind theatre production. Kids will also enjoy writing their own music and have the chance to experience different instruments as well as learn how to write and perform their original compositions. Participants will also be exposed to a wide variety of visual art workshops including; printmaking, pottery, jewelry design, painting and more, with their work being on display at the end of each week for all to see! At Journey Through The Arts we are committed to offering an unmatched chance to explore the arts as well as an opportunity to meet new friends and provide your child with an unforgettable experience.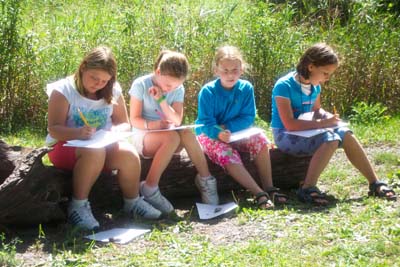 Location
Photo Gallery
---